Linux Intrusion Detection & Incident Response
Go agentless and secure Linux systems at extreme scale and speed
Protect 500 Hosts Free Now
Sandfly - Industry's Best Linux Protection
Find attacks other solutions miss without deploying endpoint agents. Sandfly is a purpose-built platform to protect Linux systems of all flavors and footprints. We're Linux experts committed to helping you find intruders, malware and compromise quickly, safely and efficiently.
Learn Why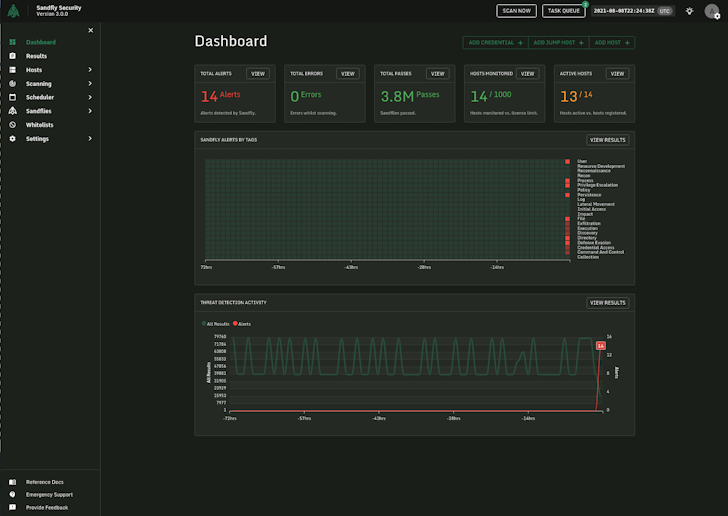 Fast & Accurate Incident Response for Linux
Stop compromise before damage is done. Deploy Sandfly within minutes to start automatically scanning, monitoring and reporting Linux security breaches using the accurate, detailed, realtime information you need to react effectively.
Or draw from our extensive Linux security and forensics expertise with our library of detection capabilities that augment your knowledge and eliminate time-sucking manual tasks. Sandfly also saves you time and money by avoiding false positives while minimizing malware and intruder dwell time.
Learn More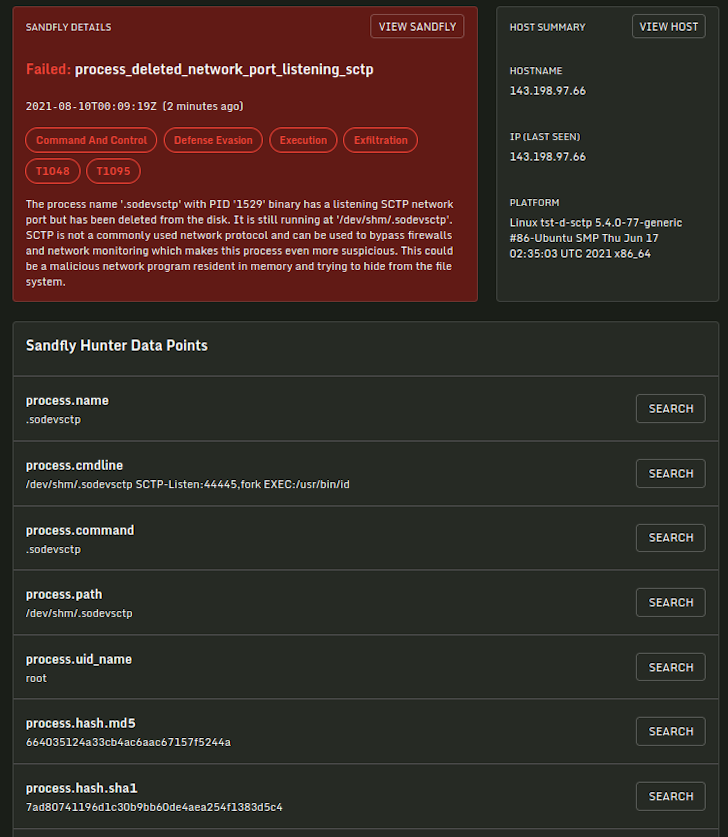 Protect All Linux Systems
Monitor a wide range of Linux systems without modifications. From large cloud clusters to containers down to embedded Linux, Sandfly protects cross-platform with equivalent support spanning the most popular distributions, CPUs and even legacy environments - typically left vulnerable by generic EDR platforms.
Learn How
Distributions
Sandfly only requires SSH access and has been tested on the platforms below, and a vast number more - we've got you covered!








CPUs
Sandfly will protect most Linux variants and versions running Intel, AMD, Arm or MIPS CPUs without any modifications.




High Performance & Low CPU Impact
Configure-and-set random scanning without killing bandwidth, tipping attackers, or impacting CPU loads and stability the way agent-based systems do.
Read More
Comprehensive Linux Protection
Sandfly is the Linux security and forensic expert your team needs.
Deploy instantly and immediately support active hunts across all your Linux systems, including on-premises and cloud deployments. Sandfly agentless scanning protects both host operating systems and the Docker images they run.
Use over 1,000 modules tuned to detect advanced Linux attacks such as credential theft, lateral movement and process injection. Sandfly knows exactly where to look for indicators of compromise on Linux because it's what we love to do.
Configure automatic response to detections with immediate intrusion containment and control. Agentless response features translates to fully automated protection across all your systems without worrying about addressing complex compatibility and stability issues.